Music Monday: How You Remind Me
|

Original image found at RollingStone.com
No, I am not referring to that Nickelback song with today's blog post title. Today's post got me thinking of music and when I hear songs from that band, who it reminds me of. People that turned me on to new music, cool bands that we both like, being at the same concert – and I naturally picture that person in my mind. Songs we experienced together. All part of association.
Dave2 and Thompson Twins
Since I've known Mr. Blogography, he and I shared a connection with the 80's band Thompson Twins. We've both seen the original line up of the band and last year, he flew to Salt Lake and we both got to experience Tom Bailey perform Thompson Twins songs for the first time in a very long time. Nothing like sharing that concert with someone who knew and appreciated their songs as much as I do.
A close second is Depeche Mode as it's one of our favorite bands [and we both saw them live here in Salt Lake back in 2009]. Coming in at third place is Matt & Kim for my musical association with Dave2. But Thompson Twins won by an overwhelming margin over both bands.
KevinAZ and Simple Minds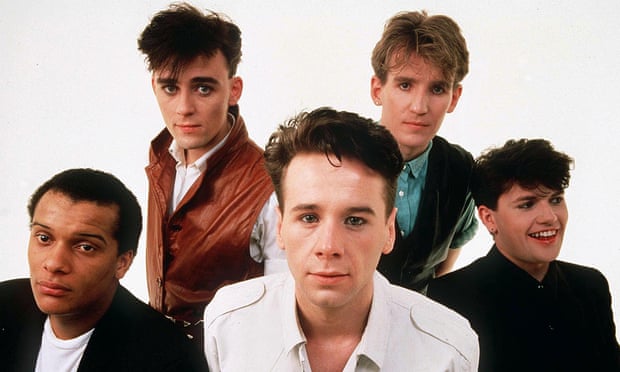 Original image found at The Guardian
Kevin from Arizona has championed Simple Minds for years now. I know he and I both share a long history of fandom for the Scottish modern music band. But KevinAZ has me beat with his embrace of the early years. So when I hear the album "Sons and Fascination/Sister Feelings Call" and songs like "Love Song" and "The American", I think of KevinAZ suggesting I complete more of my Simple Minds catalog.
My Wife and Fleetwood Mac

Original image found at Telegraph UK
Somewhere close to our second or third date, my wife and I talked about music and favorite bands. We are only a year apart, so naturally we would share a lot of the same music being pretty much from the same era. One of my favorite albums is "Rumours", the 1977 album that took this band to incredible places and worldwide fame. So we took a trip over Labor Day in 2001 and listened to CDs on our way to Lake Powell. We played "Rumours" from start to finish. By the time the song "The Chain" came on, we were signing at the top of our lungs. And to this day, I can't hear that album or that song in particular, without thinking of her.
Tiffany and Neon Trees

Original image found at Utah Valley 360
My daughter has got me into a lot of bands, namely Airborne Toxic Event being one that I have loved since their early days of her playing their music for me. And while we both share that band's music as a common love, it's the Provo, UT band Neon Trees that makes me think of my daughter when one of their songs comes on. "Everybody Talks" has me picturing her dancing at one of the many times we've seen them live. Tyler Glenn's vocals are so strong that it's hard not to imagine him singing directly to my daughter in concert.
Kapgar and CHVRCHES

Original image found at Billboard.com
When this Scottish alternative band first came onto the scene just over 3 years ago, there was no debut album yet. Just songs. I remember Kapgar talking about their music even more. In 2013, their debut album topped his year's best list. And although he's not seen them live yet, I'm sure that day will happen. And thanks to him, I've played them a lot here. I saw them live last year at Austin City Limits [which I have yet to blog about and the 2015 ACL is going on now] and they didn't disappoint. I hear their music, and I think of Kapgar.
Music That Reminds You of Me
So let's turn the tables onto myself. What music do you hear when you think of me? What's a band that I talk about non-stop? Any music that you hear that you heard when we hung out? Tell me about it below.