Original image found at The Mighty Van Halen
I skipped Music Monday this week and pushed it off to a Throwback Thursday. This is remembering my first concert. It was September 1982. Van Halen did multiple nights at The Forum. I don't recall what night I went to. It was with friends [I don't remember what friends either… that was 34 years ago]. There were no digital cameras. No one thought to take a regular film camera into the show, at least I didn't even though I love taking pictures back then. The thought of it getting confiscated was a valid enough reason.
This site I've linked to here covers the night of September 10, 1982.
First Concert Memories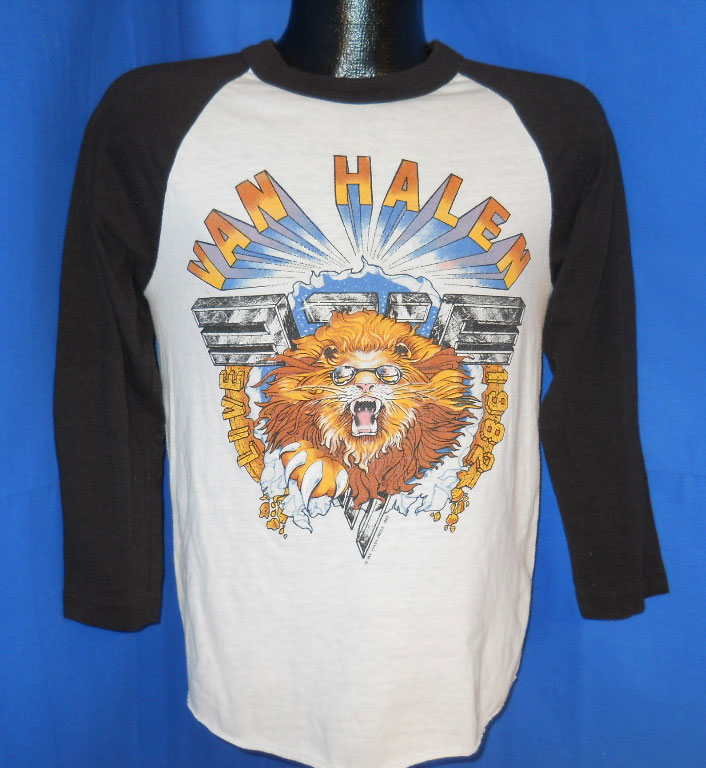 Original image found at The Mighty Van Halen
The tour was for the recently released "Diver Down" album, which was mostly covers. I remember getting a shirt and wearing it to various places. My mom hated this shirt. She hated most of my music and anything to do with it, so this was no surprise. I had to hide the shirt from her due to her threats to get rid of it [she eventually did toss it along with most of my music]. I understand you can order retro concert shirts. I should buy one to have again.
Set List
Romeo Delight
Unchained
The Full Bug
Runnin' With the Devil
Jamie's Cryin'
Little Guitars
Where Have All the Good Times Gone (The Kinks cover)
Hang 'Em High
Cathedral
Secrets
Everybody Wants Some!!
Dance the Night Away
Somebody Get Me a Doctor (With "I'm So Glad")
Ice Cream Man (John Brim cover)
Intruder
Oh, Pretty Woman (Roy Orbison cover)
Guitar Solo (Including "Eruption")
D.O.A.
Ain't Talkin' 'Bout Love
Bottoms Up!

Encore:

You Really Got Me (The Kinks cover)
Happy Trails (Roy Rogers cover)
Many Years Ago
Oh to go back in time to relive this show, taking modern technology with me and taking as many pictures and video I could. The site I linked to above does have a bootleg cassette tape recording that was digitized. The sound is pretty decent and it appears to have been recorded from a good angle of the stage. I do remember David Lee Roth's "I forgot the fucking words" quote during the opening song "Romeo Delight" so there's that memory. I wasn't high or drunk as I didn't do any of that in 1982. I'm sure there was enough pot smell around me.
As a long time fan of Van Halen [although sadly I never saw them with Sammy], I'm proud for it to have been my first concert.