The rare time I wear an Ugly Christmas Sweater
Happy Holidays to my readers. Sharing a recent picture of myself from this last Saturday night. Went to a friend's house party where we wore our Ugly Christmas Sweaters. I give credit to my wife for this find. I really don't think it's ugly, but it falls into that design category. Plus, it's got a DJ penguin. That can't be ugly at all.
Seasonal Movies
I thought I would share my top 5 Holiday or Christmas movies. I normally like to watch all of them at least once during the Holiday season from Thanksgiving to New Years. Some more than once. Some have been favorites since my early childhood years. So read on, enjoy and leave your comments below.
Top 5
A Charlie Brown Christmas

– Who doesn't love A Charlie Brown Christmas special. I was 2 years old when this came out in 1965, so I didn't remember watching it until I was at least 6 or 7. It came on the TV about the same time it does now, a few days to a week before Christmas. The tree was always a part I felt sad about, cause everyone gave Charlie Brown shit for it. And even though it was religious in subject matter, Linus gave a kick ass speech that is one of the coolest parts of this special.

The Year Without a Santa Claus

– This Rankin/Bass stop motion animated TV special was on top of all the stop motion fair when this came out in 1974. This story had everything, including a sick Santa Claus and his dopey but dedicated elves that tried to save Christmas from being cancelled. I'm sure I'm not alone in my love for the Snow Miser and Heat Miser brothers, pissing off their parental figure Mother Nature.

Die Hard

– How is a 1988 R rated movie about a terrorist hostage takeover of a downtown Los Angeles skyscraper considered a Christmas movie? Anyone that's seen it will know right away at how the time frame of the movie plot makes it an instant Christmas classic. In my last watch of this, I had to replay the following scene several times. One of my favorite movie quotes.

Bad Santa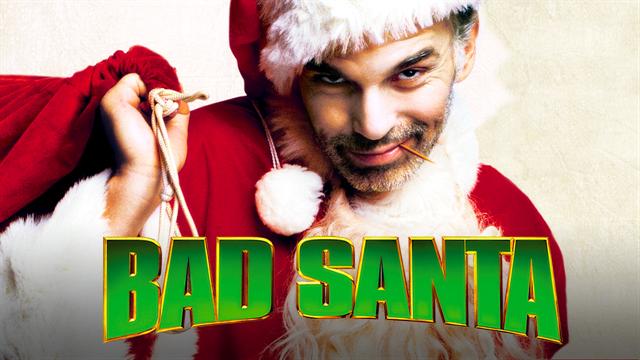 – Raw, dirty, nasty, vulgar, abusive and many other negative connotations can be used to describe this 2003 movie. But none of those matter when you sit down to watch this, which has great roles from the late John Ritter [his last live performance movie before he died 13 years ago] and the late Bernie Mac as a department store security manager that eats oranges and smokes cigarettes.

And for my top Holiday Movie pick….
Santa and the Three Bears

– It's a cheesy made for TV animated cartoon staring a park ranger and three bears. Of these 3 bears, two of them are small cubs who get told the story of Christmas by Mr. Ranger. Their mother, the large mama bear, is trying to hibernate when her cubs wants to stay up to meet Santa. Why is this my favorite over the other ones? Because there was something cool and touching about it that as a kid, I looked forward to it each and every year. And thanks to the magic of YouTube, you can watch the whole thing below. The quality is bad because of the various transfers of this movie from the original TV show to VHS have left it in a "never been remastered" state even on the DVD I have. I'd be all for seeing a cleaned up version of this holiday classic.